Technology Trends 2021
Technology Trends 2021
Big Data, Cloud, and Software Related

The Cloud-Gartner has predicted that 75% of all enterprise databases will be deployed on or migrated to a cloud platform by sometime in 2022 and cloud data management firms say demand has been unprecedented since 2019.

Big Data-Worldwide data is expected to hit 175 zettabytes by 2025, representing a 61% CAGR. 51% of the data will be in data centers and 49% will be in the public cloud. 90 ZB of this data will be from IoT devices in 2025. 80% of data will be unstructured by 2025. On top of business documents, video and audio are added new content such as social media, IoT, streaming and geo data.

Analytics– The three dominant types of analytics –Descriptive, Predictive and Prescriptive analytics, are interrelated solutions helping companies make the most out of the big data that they have. Each of these analytic types offers a different insight and are growing at over 30% per year.

Security-Zero-trust security upends traditional perimeter defenses by assuming that nobody and nothing can be trusted. Devices and users must provide additional proof of identity as they access increasingly sensitive information, even if they are already logged on to the network.

Sources-Open-source components combined with the free software licenses and cloud computing accounts that many vendors have made available during the pandemic are unleashing a flood of applications for everything from contact tracing to viral research.

Software Development-Low-code/no-code development platforms, which use visual components and drag-and-drop construction to build software quickly, were already on the fast track before the pandemic set in. Forrester forecast that the low-code market will grow 40% annually to $21.2 billion by the end of 2022. Gartner estimates that low-code tools will be used for 65% of all application development by 2024.

Chatbots-Research and Markets Ltd. expects the global chatbot market to grow nearly 30% annually to $9.4 billion by 2024, but some people believe those numbers are pessimistic given the new applications the technology is finding. Currently used mostly to get quick answers to common questions or to resolve complaints, chatbot technology is likely to expand into new areas according to the World Economic Forum.
Technology Trends

IoT Devices

The Internet of Things (IoT) Market was valued at USD 200 billion in 2020 and is expected to reach USD 700 billion by 2026, at a CAGR of 21% over the forecast period 2020 – 2026. With the development of wireless networking technologies, the emergence of advanced data analytics, a reduction in the cost of connected devices, an increase in cloud platform adoption, the market is expected to grow at a positive rate.

There will be >41 billion IoT devices by 2027, up from approx. 8 billion in 2020.

Videoconferencing

The global video conferencing market size was valued at USD 4 billion in 2020 and is expected to register a CAGR of 9.9% from 2020 to 2027.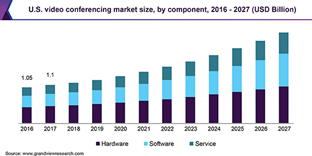 BYOD and device sharingBYOD statistics show its market share in 2014 was at $94.15 billion and by the end of 2022 it will exceed $370 billionIn 2020 there were >10 billion personal mobile devices in use71% of people use their own devices at work

Touchless interactivity

The touchless sensing market is projected to reach USD 15.3 billion in 2025 from USD 6.8 billion in 2020 at a CAGR of 17.4%.

The North American gesture recognition and touchless sensing market has witnessed significant advancements in the past few years. It is always at the forefront in terms of the adoption of technology and associated services. The deployment of augmented reality (AR) and virtual reality (VR) technologies in the gaming and entertainment industries have accelerated the adoption of gesture recognition products and solutions in the region.

Artificial Intelligence and Machine Learning (AI/ML)

In 2020, the global AI software market is expected to grow approximately 154 percent year-on-year, reaching a forecast size of 22.6 billion U.S. dollars.

AI is a term used to describe a variety of technologies referring to the creation of intelligent software or hardware able to learn and solve problems. These include machine learning, computer vision, and natural language processing (NLP), among others.

AI is expected to have wide adoption in and implications for every industry vertical and is likely to be one of the next great technological shifts, like the advent of the computer age or the smartphone revolution.

Thermal and Video Analytics

Thermal Imaging market size is valued at 3.24 Bn USD and will increase to 5.16 Bn USD in 2026, with a CAGR of 6% during forecast period.

The video analytics market size was valued at $4.10 billion in 2019, and is projected to reach $20.80 billion by 2027, growing at a CAGR of 22.7% from 2020 to 2027.

Video analytics is a computerized processing and automatic analysis of the video content generated, collected, or monitored during video surveillance.

Information and Communications Technology (ICT)

Network bandwidth and accessibility

The average broadband subscriber consumed a weighted monthly average of 402.5 GB of data by the end of this past March, thanks to coronavirus stay-at-home initiatives, says OpenVault in its Q1 2020 Broadband Insights report. That figure was 47% greater than the year-ago quarter and nearly as much growth as had been projected for all of 2020. Meanwhile, usage in April and May showed signs of surpassing that total.
5G The global 5G services market size reached USD 41.48 billion in 2020 and is expected to expand at a compound annual growth rate (CAGR) of 43.9% from 2021 to 2027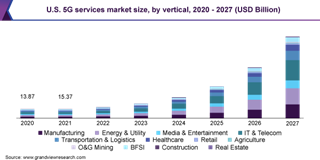 Vertical Market Tech Trends

Corporate

Distributed workforce integration

Data management and analytics

AI/ML, AR, and VR utilization

Implementation of chatbot

Education

Collaboration, device sharing, interactivity

Data management and learning analytics

Blockchain secure ledger of transactions